Part 2: Definitely Not Breakfast At Tiffany's & Ms Possum Meets the Prince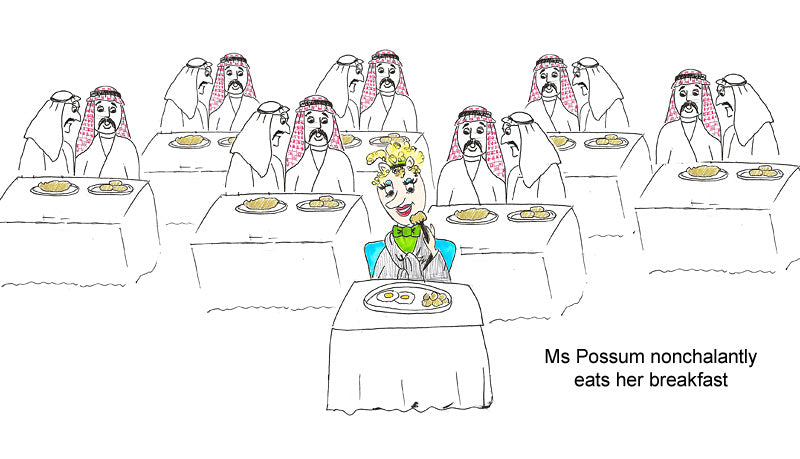 So Ms Possum has arrived in Riyadh and chauffeur driven to the Al Khozama Hotel. The wonderful Ms L coincided briefly there and went through the action-packed itinerary that would see them through the next few days and then it was Pumpkin time; ie: time for all good possums to hit the hay.
The next morning, the Abayah clad Ms Possum was rearing to go and went down to breakfast – a sole female in a dining room awash with white-robed Arabian men with a few international businessmen to boot. A girl dreams of undivided male attention – but not this sort – the body language signalled "what on earth was an unaccompanied female doing breakfasting in our vicinity?"
Ms Possum was not to be phased and happily chatted away to the curious waiters as if this was the most natural thing in the world for her. The whole team of all male hotel staff got used to the irrepressible Ms Possum and came to expect a cheery Hello from her. They remembered how she liked her eggs; were surprised when she asked about their lives; totally intrigued how a lone girl had come to Saudi Arabia to do business and blown away when they realised which Prince had sponsored the visit. They became quite protective of Ms Possum in ensuring she got into the right car and was safe and the little posy of flowers as a farewell was a touching gesture.
Armed with a suitcase full of possum samples and pressies, Ms Possum met the Prince at his Business HQ. Having been educated and employed in the UK a few moons ago, the Prince's English was impeccable and his manner genial. The Prince is a Philanthropist and has many charities – one of which was to assist disadvantaged women into meaningful work. The brief: to design Bedouin inspired décor or clothing in possum fur in such a way so that local women could incorporate their own local craft into the equation. Ms Possum sooo approved of this noble cause and subsequently came up with a modular concept where designs can be mixed and matched in plated form to provide the basis for throws, rugs, garment linings, wall hangings, etc. Then local women could hand weave their own backings and attach Egyptian braids or plaits to embellish. (Click pictures to enlarge.)
The next instalment is all about Ms Possum's delicious dinner with diplomats! (To follow the never-ending story click here.)