Part 4: Ms Possum in Saudi Arabia: A Saudi Royal Wedding with Gowns from Paris!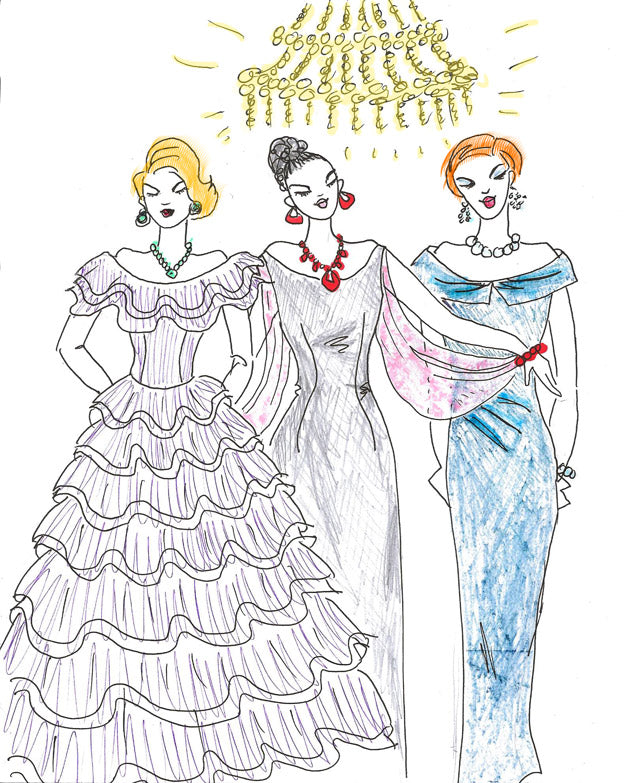 There are weddings and there are weddings but it is not till one has attended a Royal Saudi Wedding, that one realises it cannot be beaten in opulence and extravagance.
The resourceful Ms "L", who was already on the guest list, managed to score an additional invite for the visiting Ms Possum in the form of a beautifully embossed personalised card. Ms Possum was sooo excited to be an honoured guest as this was to be a Who's Who of female Saudi Royalty
Saudi weddings start late at night and are women-only events, bar a short interlude where the groom and close male members pay tribute to the bride. The males had their own separate low key event the previous night as weddings in Saudi Arabia are not about them!
So, it all started at 10pm in a venue more akin to a Palace than a Wedding Reception Hall. Into the "Abayah Check- in Area" where the black robes are thrown off to reveal real women beneath. Then into the main Hall, full of multitudinously gigantic and sparkling chandeliers.
And glory it was – hundreds of gorgeous women in Parisian designer gowns and dripping with the most exquisite diamond and precious stone encrusted jewellery. Ms Possum having a penchant for both shiny things and immaculately cut gowns, quickly calculated that the average spend of each person in the room would have amounted to a quarter of a million dollars each. Ms Possum would have had to become world notorious to enter this sort of league and she wholeheartedly regretted not throwing a whole heap of cubic zirconiums into her luggage to at least emulate the part a tad more!
These Saudi beauties, who had gone to Paris to be specifically kitted out for the occasion, would not have been out of place in Vogue and they flitted here and there like iridescent butterflies revelling in a few hours of freedom before being re-cocooned in black invisibility. Here was their chance to be spotted by their future mothers-in-law and discreet enquiries were being made this very night regarding family ranking and status. Where else could a potential bride be so chosen looking at her Abayah-less best?
All of these wonderful creatures came with impeccable manners, modest necklines and were beautifully coiffed and macquillaged. It was a sight to behold from one of the many luxurious chaises lounges that surrounded the "catwalk" where the bride was to make her triumphant entrance and not dissimilar to having front row seats at Paris Fashion Week.
So, it was a chance to sit back and view a cross section of Parisian gowns in one location. The Mother of the Bride wore Jean Paul Gaultier – a fitting dark strapless number with shocking pink, vertically draping sleeves that billowed as she walked. Ms Possum was told it was a choice between that or a red Armani purchased just in case.
The Mother of the Groom was stunning in an off the shoulder sapphire blue Givenchy. And the younger, beautiful sister of the bride wearing a taupe empire lined Elie Saab with exquisite detailing – this designer does a lot of work in the Middle East for such occasions.
Ms Possum's personal "best" was the wafer thin girl in purple Dior gown with off the shoulder "waves" of layered peplums; then more "waves" cascading from the fitted waist to the ground. Ms Possum thought it would not have looked out of place in Gone with the Wind!
But there was more to come to astound the now giddy, moon-eyed Ms Possum – tune in for the next installment.