Part 3: Ms Possum has Dinner at the NZ Embassy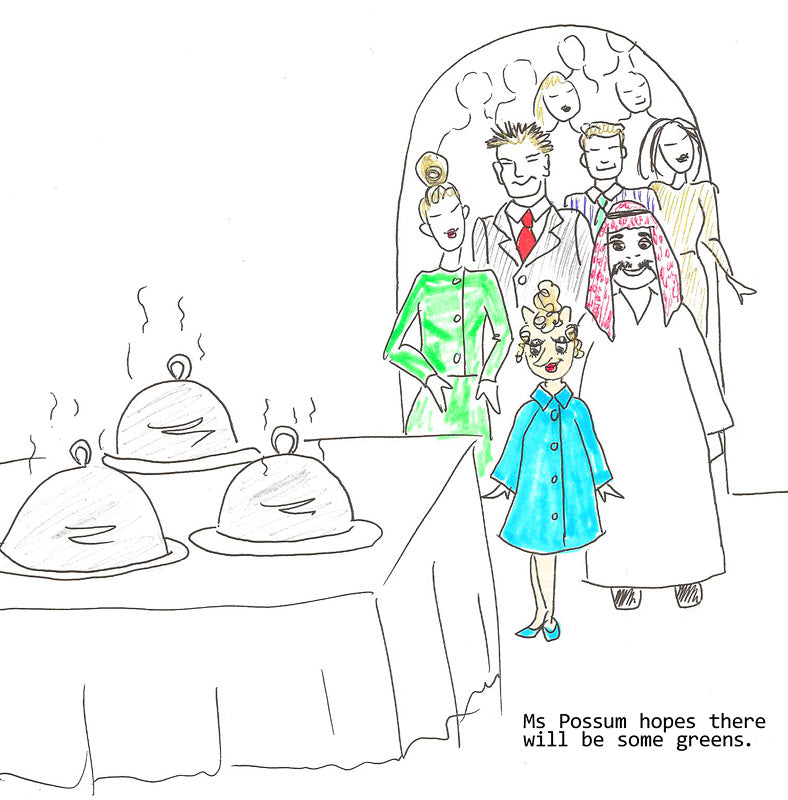 The NZ Embassy had heard Ms Possum was coming and arranged for her and the Prince to come to a formal Dinner. The Diplomatic Quarter houses many fine Embassies that are next door to each other and not unexpectedly, armed guard security into this exclusive enclave was par for the course. So it was an utter privilege for Ms Possum to attend and to meet the NZ and Australian Ambassadors along with other diplomats and ex pats for a night of degustatory delight! Ms Possum was well entertained in hearing everyone's interesting stories and reciprocated with some of her own. In this amazing setting, diplomatic status meant that Western norms took precedence over the strict protocol of the Islamic world outside and Ms Possum pondered deeply at the huge juxtaposition between the two worlds.
But the Royal Wedding beats the cake! Yes, this ziggurat shaped tower of a cake reached up to the chandelier of a very high ceiling. Ms Possum had never seen such a big cake in all her life and was a wee bit worried when guests were digging into the mid section and wondering if the whole structure would be undermined! Very few outsiders are ever invited to such a prestigious affair and Ms Possum concluded it was about as difficult to go to Kate and Wills wedding as it was to be there. Needless to say, she was as excited as a possum in a pear tree could be to have scored an invite.
Find out next week what goes on at a Royal Saudi Wedding and more of Ms Possum's adventure in the Magic Kingdom of Saudi Arabia.
And if you'd like to catch up on the story so far, click here.