Ms Possum One Offs (unless you want one too!)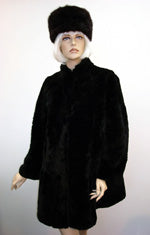 I recently met a lovely family from Paris who were on extended stay in New Zealand. They wanted to take back with them something totally evocative of our beautiful country. So we thought what better way to stroll the Champs Elysee, or go to the Paris Opera House en Hiver, than in a tailor made shorn black possum fur swing coat!
Wow, after taking umpteen measurements for the female client and two fittings, the coat was tailored to perfection!
The Mandarin collar, invisible pockets and strategically placed design lines all added to the stunning look this one-off piece produced. Shearing a few millimetres off the possum fur resulted in a smooth velvety texture hich oozed luxury. We hope the Parisians go "ooh la la, c'est magnifique!" at Possum New Zealand's creation.
Fancy your own tailor made possum fur jacket or ¾ coat? Allow between NZ$2000-$3500 (ex. GST) depending on the length, fur and cut. I'll need to see you for 2-3 fittings and/or one of your best fitting jackets/coats as a guide.
KIDS PROTOTYPES
For some reason, kids have been foremost in our custom designs of late. The Parisian client wanted her shorn black possum fur offcuts converted into something unique for her young daughter. The result: a fur hat, reversible collar and the prettiest muff this side of the black stump – best dressed kid in Paris we say!
And then two of Ms Possums' fave kid friends requested cushion covers with a wolf and husky dog embedded on it in possum fur. Hmmm, having never done animals of this kind before (not that Ms Possum is biased towards other animals) we had to really go figure. Check out these items and see if you think it looks remotely like the intended little critter…
above, we can upload them as an item on the website, but in the meantime simply email us and we can provide you a price for the new items.
Or if you have a unique idea for your kids, throw it at me possums – I may consider making it especially for you. These projects are fun and fiddly all at the same time, but I get a huge creative kick out of kids items as it takes me back to when I was a young possumette all those full moons ago… sigh.
Click here to view our full kids range.
POSSUM HEAD WEAR
I had a desperate client come into the workshop a few days back. Her son was getting married in a couple of days and the purple/black mother-of-the-groom dress was more plain jane than red carpet wonder. What to do?!
Just add possum ladies!
We draped a purple raw edge collar over her neck for NZ$112 inc. GST or NZ$99 exported freight free and a custom made possum headpiece (P.O.A) = stunning!!
The only problem now was the Mother of the Groom outshining the bride – what a dilemma!
Regards, Ms Possum