Ms Possum out on a Saturday night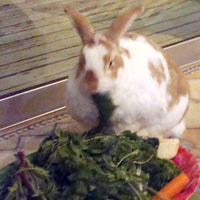 It has been known that Ms Possum goes out nocturnally to enjoy Auckland City by night. But this was a Saturday night with a point of difference.
After dining out with friends, Ms Possum was kindly invited back to the friends' house in the central eastern suburbs, where leaves and trees abound in splendiforous abundance. Because of this our wee furry friends have adapted with cunning ease in this urban sanctuary.
Part of my hosts' family also used to include two huge lop-haired rabbits, who used to feed together outside on the veranda in the company of our furry friends – yep, lapin and possum together in delightful co-existence – if only the races of mankind could do likewise! Unfortunately, Mr Bunny predeceased Mrs Bunny (the male always goes first) and now Mrs Bunny prefers to eat her side salad within closed walls due to the present imbalance of power.
My host put carrot and apple pieces as per the nightly ritual on the outside verandah rail. We turned off the inside lights and waited. I joked that word had got out Ms Possum had arrived, wearing what no live possum would ever want to see, and that our furry friends would not make an appearance on this particular night.
But within only a few minutes, the security lights popped into action with a noisy bounce on the roof, resulting in a crash landing on the deck and a grab at the offerings. More bounces and another furry friend appears. Ms Possum went closer to the window to be stared back at by these courageous critters. They seemed to be carrying out a facial recognition exercise. Either that, or they were mesmerised by Ms Possum's gleaming dental work as all parties stood transfixed for a few seconds. With everyone "playing possum" who would give in first? No need to ponder, as with a hasty leap off the verandah, they disappeared into the dark void below.
The word was out – Ms Possum had come to spoil this clandestine activity and our furry friends were not quite ready to be transported into the fourth dimension. We never saw them again for the rest of the night.
Yep, Saturday night possum spotting is a lot of fun!
This furry friend wasn't going to risk Ms Possum getting near him!