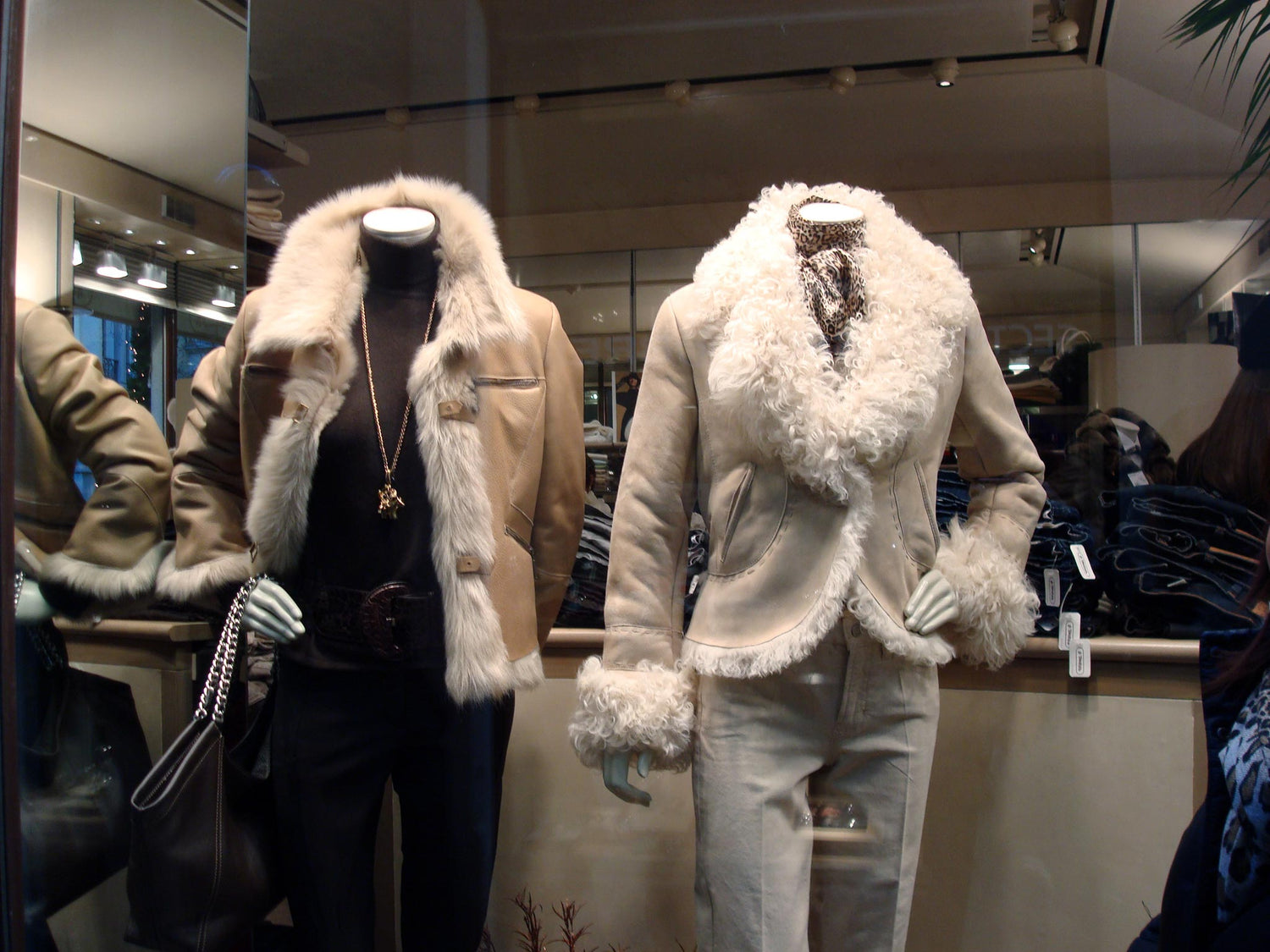 Ms Possum has just returned from her European sojourn to Milan, Paris and London to gauge what is happening in the fashion fur scene. Equipped with no less than 6 layers of Possum merino knitted reinforcements and the odd possum fur hat and collar, Ms Possum looked suitably apt to conquer the minus 5 degree temperatures confronting her in the Northern Hemisphere Winter.
She braved the elements to give her fur aficionados the latest in fur goss and is very pleased to report the proliferation of fur fashion everywhere she went… If you would like to see the full-sized images, just click any of the thumbnails below.
Milan and Northern Italy
On the shores of Lugano in Northern Italy, beautiful women promenaded round the Lake in long flowing fur coats – the sort you see in Vogue but can't imagine who could afford to buy. Well, they were all here in eye riveting splendour, with well dressed pooches the accessory of choice.
A short walk from the famous Duomo Cathedral – just past Leonardo Da Vinci's statue – is Milan's fabulous Designer district. Ms Possum was in near hysteria to discover salon after salon incorporating fur into its Winter Collections. The variations were endless with fur and bling thrown carefully together. Then there were leopard printed furs, fur and chunky knitted bags, puffer coats and jackets with over the top fur trimmed hoods and cuffs. Even the humble denim jacket was lifted to a new level with the addition of monstrous fur collars.
But wait; in the midst of this mind blowing un-PC mix of mink and fox… Ms Possum was pleased to stumble upon our eco- friendly Possum fur direct from NZ!
The Italian designers are using New Zealand's possum fur for men's hooded full length coats and luxurious bed throws. Ms Possum however, was very pleased to note that all of her customers would be decidedly better off contacting her direct with their furry orders than holding their breath with their credit cards at these illustrious houses of haute couture fashion!
Paris
In Paris, with the Champs Elyseé magically lit up at night, Ms Possum literally stood in the middle of a crossing in this very busy road, mesmerised by millions of lights and miraculously avoiding all traffic as she photographed the moment! There were more and more real and faux fur trimmed garments, until the mind boggles with the sheer profundity of it all. Even kid's toys are constructed from fur! And what about fur trimmed umbrellas for the person who has everything, as discovered in the St Germain du Près District. Ms Possum really enjoyed being back in Paris and the marchés, fromageries and the boulangerie opposite her central apartment all added to the atmosphere.
Of course Ms Possum delighted in the Rue de Rivoli where she emptied her wallet –but being the cultured creature she is, couldn't wait to walk on to the Louvre where she was delighted to say hello to Mona and Venus.
London
Back to London, and what better than the release of flapper 1920's inspired fashion with beading, tassels and of course the obligatory fur bolero or stole. Even the short walk from Bayswater to the Portobello markets revealed an interior design store with a New Zealand possum fur throw draped nonchalantly in the window.
Then just off Portobello Rd, Ms Possum stumbled across a little clump of permanent Italian stores selling chunky knitted beanies topped with huge fur pompoms in myriads of colours (Ms Possum will be throwing a few of these into her hat range!). Then, next door the Italian laser printed fur collar that Ms Possum just had to have to add to her already substantial fur wardrobe!
Back in New Zealand
So that's it possums, back to reality and Ms Possum is now busy preparing her new ranges in the midst of 28 degree heat in the middle of a brilliant New Zealand summer.