What Possum New Zealand Does with it's Offcuts for Animals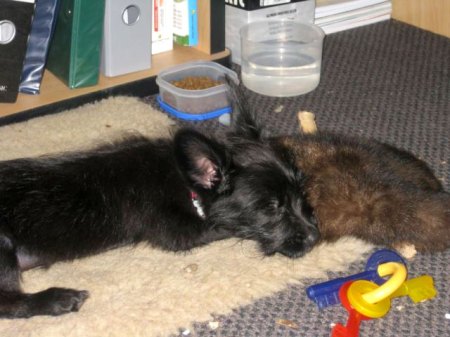 And something for you doting Mum's of 4 legged creatures. Apparently there is something about possum fur that drives your cat or dog crazy. That is why we already developed the "Possum Fur Possie Tail" for you cat lovers for only NZ$38.
Gaylene is a Possum New Zealand fan and she has amassed a few furry designs over the years. She had this manic cat called Chocolate who went totally mad whenever the Possie Tail was thrown his way – he would leap over couches,hide round corners and pounce ferociously on this item and then "eat" the tail until there was just a shred of fluff left unceremoniously dangling from the leather lead. Scary!
One day Chocolate was found in Gaylene's wardrobe dangling from a possum fur button of one of our knitted jackets – yep, he'd massacred all the bouffy possum buttons and gnawed them to bits! Oh dear, think he was trying to tell us something. So, we replaced not only the buttons but Chocolate got a new possie tail and everyone was happy.

So this next pic is for Mums of mini- canines: Jenni just got this handbag dog and we thought we'd see how " Chino " would like a bigger possum off-cut. Well, he just loves it and it's part of his bedding arrangement not to mention the handbag liner.
If you would like to spoil your fave animal like this, check out this link to our full possum hides you can buy in 19 different colours from NZ$61 including postage.
I know what you are going to say: what about clothes for the handbag dogs? Well, I'm waiting for that phone call from Paris Hilton – yeah right!
If you have a possum story to tell, drop me a line. See all you Fur Fashionistas later…..