Ms Possum and the Arabian Nights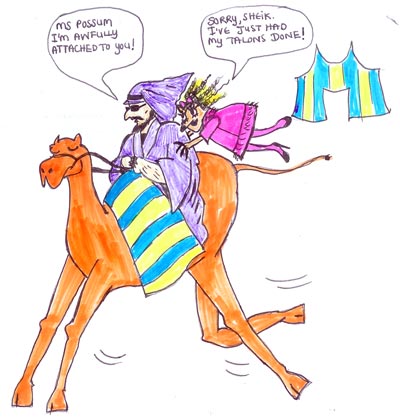 Well, my little fur aficionados, I'm going to tell you a story about my latest furry creation.
A few weeks ago, there was a knock on the factory door by an elegant ex-pat Kiwi female who has been working in Saudi Arabia for the past 28 years.
She wanted a Possum NZ rendition of a Saudi "Farawah" which is an Arabian kaftan and it was to be made in the traditional style BUT lined with our fab possum fur. She was positive that this NZ spin on an Arab classic would win the hearts and minds of those within her adopted land.
"Sure" I said, as Ms Possum is always obliging, and thought she could work it all out in her head afterwards. After much head banging, she did!!
My client said that the Saudi guys have these gorgeous big tents out in the desert and at night when the temperature plummets, they light fires over braziers, drink the famous coffee made from long spouted silver pots and eat sweet dates and delicacies, while reclining on divans of hand knotted rugs. It is a time when the guys get together and perhaps it is not at all dissimilar to Kiwi guys hanging out in their sheds. Of course, women can come too and enjoy the welcoming Saudi hospitality as my client had done many a time.
What better way to enjoy life but to wrap up warmly in a possum fur lined Farawah in sub-zero temperatures, telling stories over a blazingly warm open fire and feeling at one with the world? After feasting, one could merely curl up on the divan and use the Farawah as an enormous possum throw and be as snug as a bug in a rug. Yes, that is the life, but a life far removed from Ms Possum's reality!
But, Ms Possum could imagine one of her furry creations decking the back of a Saudi Prince, who would be riding into the sunset of an Arabian night, astride a noble camel. If only Ms Possum could tag along for the ride!! No, Ms Possum is not a contributing author for Mills and Boon, but every now and again, she likes to let her imagination run a tad wild…
So, Ms Possum obtained the best wool fabric which was heavy enough to take the weight of 35 scrummy possum fur hides and adopted a tailored garment approach to the entire construction. The weight of the article meant that all seams had to be carefully reinforced but the result was amazing and it would be impossible to feel cold bedecked in such a manner!
Let me know if you know any Saudi Princes who would want similar… or what about a Farawah party whereby the girls can have shocking pink or bright green possum fur lined Farawahs – oohhh scrumptious!! Yes, my dahlings, Ms Possum just adores bright and leery colours and can do that for any Princess. Just add all the famous 24 carat gold bling as well and Ms Possum would feel right at home!!
So, my lovelies, another market for Ms Possum to get her tenacious claws into! If you know any fantastically wealthy Saudi Princes or Princesses who would want similar… tell them Ms Possum will hand deliver the garments herself should they wish to send her a return first class air ticket on Emirates!