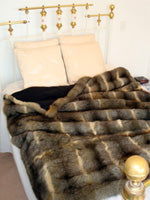 No, Ms Possum is not throwing a wobbly (being the equanaminous creature she is); she's talking about her range of possum throws.  And she's been very busy lately making possum fur throws galore!  We've recently done a few décor items for hotels and country lodges.  It's reassuring to know that Possum New Zealand products are being seen by people travelling from all over the world. I must admit, most clients order predominantly natural brown throws in all the different sizes we have, but here are a couple of new throws we did in the last few weeks as an example of what else can be done:
The natural grey throw (pictured to the left) makes a play of the "blondie" highlights at the edges – it's great for rustic or country décor themes.  This single bed throw doubled up as a sofa throw for the client's three seater burgundy coloured lounge suite. It costs NZ$2330 inc. GST or NZ$2072 exported freight free for the single bed size.
This wonderful natural brown raw edged queen sized throw (pictured to the right) was for a very special client that had just renovated her South Island villa. I used special reversible nappa hides so that the underside had a leather look wipeable finish and I went with the natural outlines of the possum hides around three borders. This gave that jagged raw edge look Possum New Zealand is famous for and the fourth border was a turned back possum fur "stripe" that will keep the client's chinny chin chin warm and snuggly when lying in bed.
Decadently indulgent luxury I say! It's worth every cent of the NZ$3200 inc. GST or NZ$2845 exported freight free for the queen bed size. Matching pillows and cushions were sent as well.
But the options don't stop there possums!
We can custom make any size throw in a range of colours and finishes – all hand cut and crafted with care. How about a shocking pink possum throw with tassels on the ends?  Yep, it can be done- just try me!  Check out the 14 different colour options available on our Possum New Zealand website.
Regards, Ms Possum